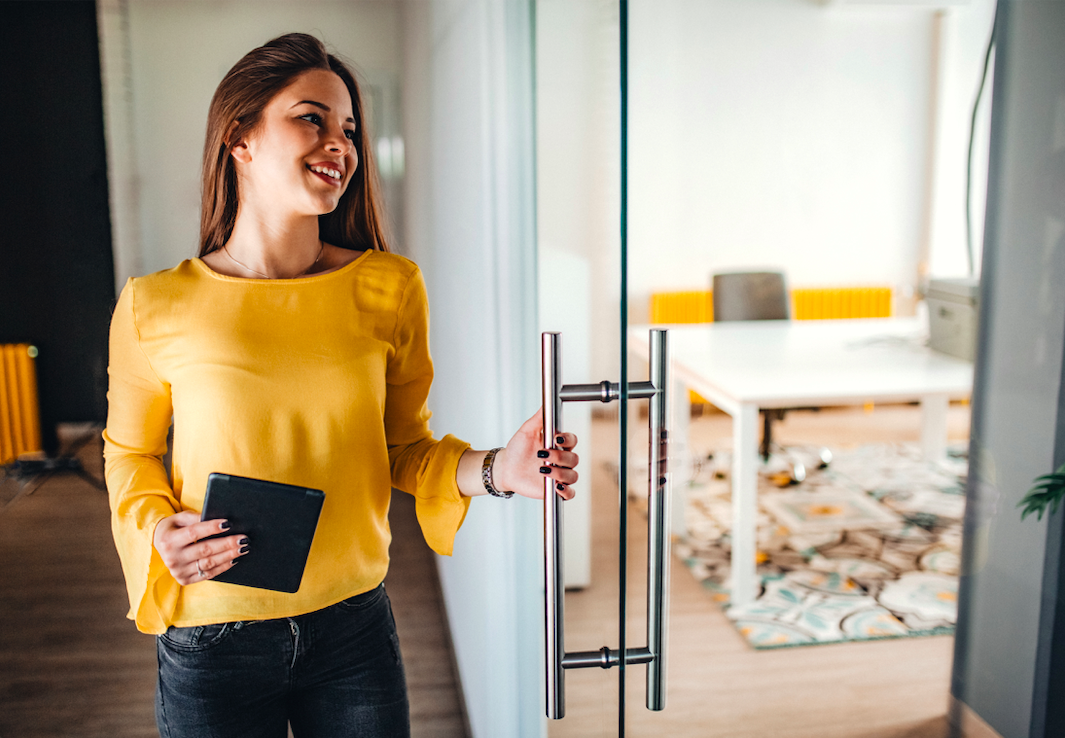 Imagine gaining access to your office without using a keycard or badge because a sensor detects the smartphone in your bag or pocket. No more dropped coffees. No more fumbling around for your key fob. No more lost and forgotten keycards.
At OpenPath, we think access to your office should be easy and seamless, but traditional keycard-based systems create a lot of unnecessary hassle. That's why we've built a truly keyless, smartphone-based access system.
Let's take a closer look at the many benefits of using Openpath as your access control solution:
1. Never Manage Keycards Again
Every time a new employee joins the team, the office manager assigns a new keycard. If the keycard gets lost, the manager designates another. Assigning new cards and replacing lost or broken ones is expensive, wastes the managers time, and the keycards themselves end up in a landfill polluting the environment.
On the other hand, with a smartphone-based system, new employees simply download the mobile app and click on a magic link. If the phone gets lost or stolen, the office manager logs in to the cloud-based software, and revokes access from the old phone. The employee downloads the app on the new device to regain access. No hassle, no cost, and it's good for the planet!
2. Give Temporary Access to Guests and Visitors
Smartphone-based entry systems allow office managers to give access to anyone as far in advance as needed. By receiving a link through email, guests and visitors download the app and follow the instructions for immediate access. Managers can also send a one-time access key to guests planning to visit the office for only one day. The onboarding process is faster and easier for all visitors and guests.
3. No More Forgotten Keycards
How many times a week do employees forget their keycards at home? A lot more often than anyone cares to admit. However, a smartphone-based entry system eliminates most of these problems. In fact, it's rare for employees to forget their smartphones without quickly realizing it as soon as they walk out of the house.
4. Employees Won't Pass Around Their Smartphones
Employees will usually probably pass their keycards around the office and forgot who the cards actually belong to. With a smartphone-based system, employees can only loan their phones once, and they'll always want them back. This reduces the amount of "passing around" significantly and helps you keep a tighter watch on access.
5. Revoke Access in an Instant
Most workplaces deal with a certain amount of employee turnover. Some employees will quit, get laid off, or simply move away. Openpath allows you to revoke access from anyone in an instant — no matter where you happen to be.
6. Industry-Leading Encryption Technology
It's simple to copy traditional keycards with a $10 device you can find on Amazon. However, Openpath's cutting-edge, end-to-end encryption offers the latest response to modern hacking techniques to prevent sniffing, key copying, cloning, and other hacking methods. This encryption tech extends into the cloud-based control and management environments as well.
7. Keeps Working in a Power Outage
Openpath continues to work even when the world goes temporarily dark. With an installed and charged backup battery, your Openpath system remains operational during power outages. Except in extreme circumstances, the backup battery will last as long as it takes to get the power back online. Openpath will also keep working during an internet outage.
Conclusion
When you consider the benefits of a smartphone-based, keyless and hands-free access system, it's easy to see why more and more business are choosing Openpath to secure their office buildings. Add to this the flexibility of continuing to use keycards, key fobs or pin codes if desired — in addition to Apple Watch compatibility — and you start to understand the power, versatility, and convenience of Openpath.
Sure, you can keep fishing around in your pockets while juggling eight Starbucks coffees in your left hand, but why not eliminate this annoyance with Openpath?

Fascinated by emerging technologies like blockchain, and the laws and market trends that follow them, Jeremy Hillpot's background in consumer fraud litigation provides a unique perspective on a vast array of topics including smart technology, investments, startups, cryptocurrencies, and the law. Contact Jeremy at legalwritingFINRA.com or jhillpot@legalwritingFINRA.com.