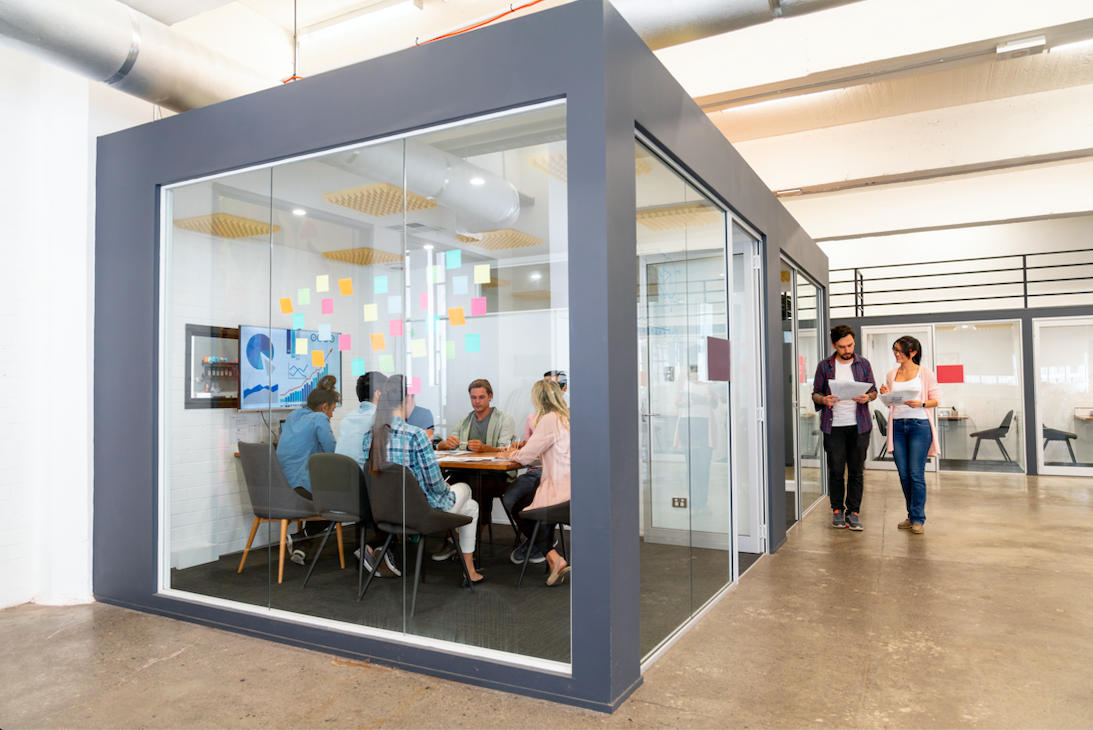 The membership turnover rate for most coworking spaces is like a health club after the new year. A handful of dedicated coworkers will stay for years, but most will leave after a month. Granting secure and seamless access to all on your ever-changing membership list is essential. But logistically-speaking, it's a nightmare.
If you have a coworking space, you know the drill. Members lose their key fobs, forget their pin codes or can't even remember the Wi-Fi password. This requires constant management on your end. A keyless entry system with cloud-based management software, like the one provided by Openpath, is the best solution for granting and revoking access to your coworking space.
But before we talk about Openpath, let's look at the advantages and disadvantages of the most common access control solutions.
On-Site Security Staff
Hiring on-site security staff is the best way a pretty common way to control access to a coworking space — but it's also the most expensive and management intensive. For 24/7 access, you'll need to pay and supervise a staff of employees.
The benefit of hiring a team of on-site personnel is to keep the office space running smoothly and make sure the tenants have the amenities they expect to be readily available: keep the kitchen stocked with snacks, brew coffee throughout the day, clean the facilities and coordinate access for visiting guests who need to meet with your members. They can also collect payments The on-site team should not have to waste time managing access credentials.
Keypad Entry Systems
A pin code locking system is the cheapest access solution. You can use a mechanical keypad lock or a modern touchpad lock that you remotely set from a smartphone. With a keypad system, it's easy to distribute and update the pin code by email — perhaps on a monthly basis.
The main drawback with keypad systems is the lack of monitoring and the hackability. Members can give the pin code to as many friends as they want, and you won't know who is entering and exiting. Distributing new keycodes by email or text could also get messy if members don't get the message.
RFID Key Fob Access
RFID (radio frequency identification) systems are often used for controlling access to small coworking spaces. Whether your system uses a key fob or wallet-friendly keycard, members can come and go as they please 24 hours a day. If someone doesn't pay their dues or cancels a membership, you can revoke RFID access remotely from a centralized hub.
The big drawbacks of an RFID system are that members can give their key fobs to friends and the key fobs themselves are easily copied or sniffed.. Although you can see which key fobs are entering, you won't know who is actually using the key fob. Even worse, members will constantly lose their key fobs and access cards, costing a lot of time from a management perspective. Although RFID key fob access is more secure than a keypad entry system, it requires a lot of energy to manage.
Keyless Entry From a Registered Smartphone
For coworking spaces that want the best of both worlds — security and convenience — Openpath offers intelligent access control that lets members enter and exit the coworking space with their smartphones. Members simply tap the "Unlock" button from the app on their smartphone or or touch the reader while the phone is in their pocket or purse to open the door.
Smartphone access offers more far greater security than key fob access. Its highly encrypted and most members will not readily give out their smartphones to friends. Furthermore, Openpath can work with Apple iWatches and traditional key cards when required.
Compared to keycard systems, Openpath is a tremendous time-saver for the system administrator because it lets you to grant or revoke access to visitors from anywhere at anytime. . The visitor just receives a text message with clickable link that allows them to come and go for the amount of time specified by you, without needing to download the app. And the administrator can monitor who is coming and going from their property in real-time with full control.
Finally, Openpath's cloud-based software allows you to manage access from a centralized control hub for multiple coworking spaces in different buildings — or different cities — throughout the world. There's no need to manage or install local software on a server inside the building. Plus, Openpath keeps working, even when the internet goes down.
Conclusion
Considering the options for controlling access to your coworking space, it's clear why the founders of Openpath developed this technology. Simply put, they were tired of losing their office key fobs, disliked juggling multiple key cards for different office buildings and wanted a secure solution they could trust.
Fascinated by emerging technologies like blockchain and the laws and market trends that follow them, Jeremy Hillpot's background in consumer fraud litigation provides a unique perspective on a vast array of topics including smart technology, investments, startups, cryptocurrencies and the law. Contact Jeremy at legalwritingFINRA.com or jhillpot@legalwritingFINRA.com.