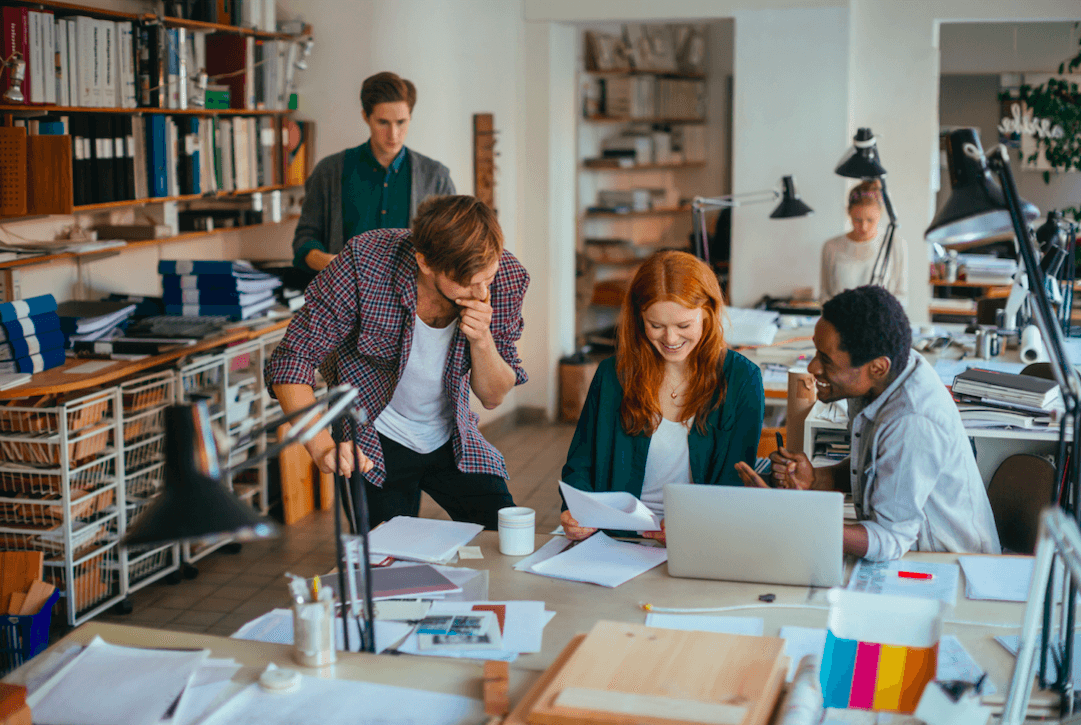 A positive company culture is more than just a perk, but is an integral part of any successful organization. Creating a team that feels like they are working toward shared goals promotes creativity and loyalty in the workplace. It's hard to find quality employees and it costs money, too.Turnover costs for employees can be much higher than you think. It is estimated that replacing an entry-level employee costs around 50 percent of their annual salary. With mid-level employees costing 125 percent of salary and executives coming in at about 200 percent of their salary. Having a robust company culture will help retain valuable employees and create a supportive, creative work environment that will secure success.
What Is Company Culture?
The culture you create for your company is its personality. Your company's environment, goals, mission, vision, along with your values and ethics, all work to create a company culture that can appeal to employees.
Employees don't select jobs on salary alone—when the company culture aligns with their own values, it can bolster their commitment and enthusiasm.
Creating Core Values for a Company
"If you don't stand for something, you'll fall for anything," is how the saying goes. Deciding what your values are is the first step in creating a company culture. Your values give you a place in the world and set you apart from competitors. Values give employees and customers something to believe in.
Values show that you care about something greater than your bottom line, that you commit to working ethically and are accountable for the way in which you do business. This earns trust with employees and customers and gives you an edge on your competitors.
Provide Security
Build trust with employees and customers by creating a safe space in which they can work and where sensitive data is secure. Keys, key cards and fobs are vulnerable, as they can be lost or copied. Instead, instal a modern access control system that lets you securely grant or restrict access to anyone from anywhere in the world. Be sure to look for features like multi-factor authentication, which ensures only authorized persons can unlock your entries. Or, if you prefer more convenient unlock methods, Openpath enables hands-free access your smartphone as a credential. Once you're close enough to the entry, the Smart Reader uses Bluetooth, Wi Fi, and cellular connection to detect the registered device and unlock the door instantly.
Cloud-based access control systems save on the costs associated with traditional systems, like maintaining servers onsite, while providing greater security through a robust cloud architecture that is constantly updated against hacking.
Communicate Organization Culture
Define your vision and mission clearly to your employees. The "rule of seven" indicates that people need to hear your message at least seven times before internalizing it. Regularly discuss your mission and vision and the way in which you would like to see your company operate.
Live It
Hypocrisy erodes trust and team commitment, so management must embody your organization's culture. Leading by example will help to cement your vision and create a company that resonates with your beliefs.
Company culture is something that will evolve as you grow. It is imperative that values and missions grow with the company to reflect the changing business landscape. Taking time to foster a healthy company culture will create a workplace that attracts talent and breeds success.


Nikki Fotheringham is a journalist and author. She is the editor of Greenmoxie.com and the Trent Hills Tribune and a writer for the Huffington Post.