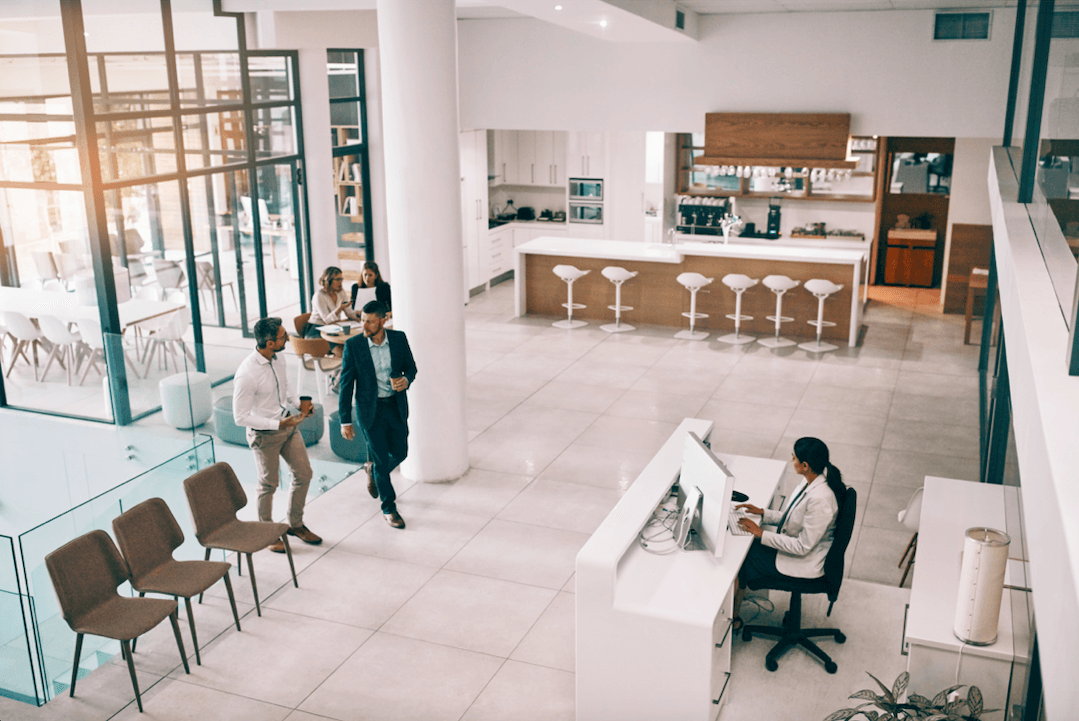 Open office plans—desks clustered on an open floor with conference rooms and a handful of offices positioned along the perimeter—are nothing new. Manufacturing floors and newsrooms may have been the original open offices, but open spaces have become popular once again—to attract millennials by doing away with the cubicle farms of the 1980s and 1990s, and to address senior management's focus on achieving higher productivity.
According to a report by the International Facility Management Association, some 70 percent of American office workers now have desks with either low partitions or no partitions at all.
Need for Privacy
Open office plans are designed to promote collaboration and efficiency. However, it has long been known that such office plans lead to increased noise, privacy loss and distraction.
As such, maintaining some private, closed-door space is imperative in allowing employees—and visitors—access to privacy when needed. The key is to make sure that there are enough rooms to accommodate the number of employees and expected visitors. For open plan workspaces, the general rule is one conference room for every 10 employees.
Conference rooms and closed-door offices are not the only options for privacy. Consider "focus" rooms or lounges, where employees may feel more comfortable whether alone or in small groups.
Further, controlling access to more highly-sensitive or mission-critical areas, such as IT closets, spaces where IP is developed, and certain executive areas, should also be factored in to the planning of an open office. Openpath's solution can accommodate access to these diverse area types.
Place Identity
The concept of place identity is also driving open office elements designed to increase productivity and overall work culture. Place identity is how employees feel about the space. According to Harvard Business Review (HBR), when place identity is higher, employees report more engagement in their work, more communication with their peers and a stronger connection to the company. In short, employees are happier.
To ensure a high level of place identity, companies need to go beyond the physical features of the space itself to determine whether employees feel the space aligns with their self-image and enhances their sense of belonging.

HBR suggests that management convey a clear vision of the open office space to employees before a redesign. In this way, leaders have an opportunity to describe how the new space is intended to help achieve the organization's mission. HBR's survey data reveals that workers experience more place identity if they believe the space is designed to foster creativity, increase collaboration, enhance flexibility and promote informal communication.
Including Others in the Process
Open office design ideas can emanate from an organization's own employees. While employees may not hold degrees in interior or industrial design, they know what type of environment works well for them. Management can solicit feedback regarding the proposed design, layout, color scheme and furniture.
Different departments may have different ideas on how the space should be used. Creative teams may enjoy the open office design, but sales, legal and HR folks may prefer more privacy, as sensitive information is often shared on a daily basis.

For further open office design ideas, lean on vendors. Steelcase, the largest office furniture manufacturer in the world, has spent years studying interiors and environments that meet the diverse needs of employees. The company's Quiet Spaces line supports specific work modes for both privacy and productivity, via architecture, furniture, materials and technology.
"The investment in design for your office is important," notes Mona Patel, CEO of Motivate Design, in an interview with Inc. magazine. Not simply a way to foster more collaboration or productivity, "customers come in to your office and assess whether they want to work with you or not."