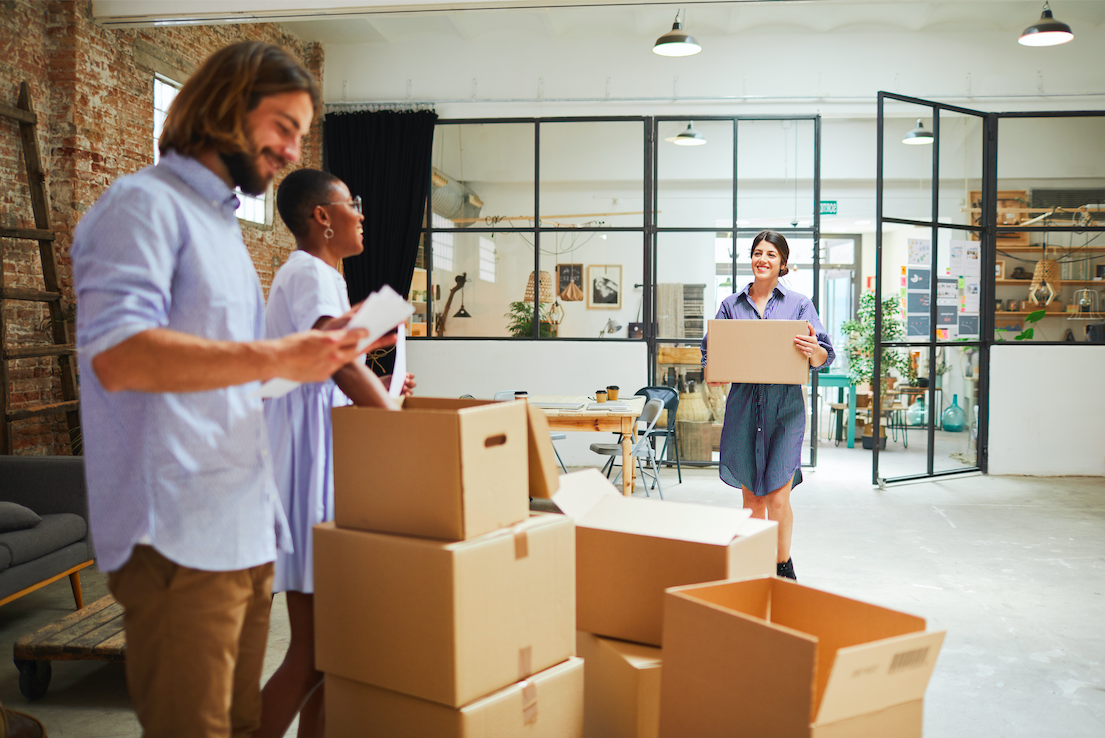 If you're feeling overwhelmed by the need to relocate an office full of workstations and employees, you're not alone. From getting your team members organized to deciding what furniture goes where, the process is not for the faint of heart.
Besides the logistics, there are operational challenges to consider. How will you keep the workflow moving while everyone is trying to get settled in the new space? Which team members will you put in charge of packing and unpacking shared spaces?
There's only one way to get a complex job like this done: Create a step-by-step plan. Here's an office relocation guide to get you started.
1. Make a Rough Sketch of Your Moving Plan
Chances are, you're a small- or medium-sized company, soplanning six months in advance will offer plenty of time. However, large-scale office moves can take years to plan out and execute. Ultimately, you should start creating a moving plan as soon as the relocation is set.
Here's a rough sketch of what you'll need to start thinking about first:
Determine your complete office move checklist. Hold a meeting with team members or department leads to make sure you haven't missed anything.

Designate someone to be the "moving coordinator" who will oversee the entire operation.
Work with the moving coordinator to create teams that will be responsible for the different moving tasks you've identified.

Work with the moving coordinator to put a deadline on every task.
Your designated moving coordinator will need to oversee all the details of your move, so you'll want someone who is skilled at planning and organizing. You also want someone who represents your company well in the community and excels at making intuitive, split-second decisions as challenges arise.
2. Choose Your "Moving Team"
Depending on your management style, you might want to delegate every piece of the move to the moving coordinator. But if you prefer a hands-on approach, you can work closely with the moving coordinator to select the right team members for the job. Schedule weekly or bi-weekly meetings with the moving team to ensure the project stays on track.
When selecting people for the team, remember that they will need to:
Refine the list of moving tasks for each department.

Decide the order in which to carry out the tasks.
Delegate responsibilities for tasks within the department.

Work with the moving coordinator to put a deadline on every task.

Create and adhere to target dates for completion.

Decide which team members will be in charge of preparing the new spaces.
To perform the above tasks successfully, it's best to have employees on the moving team that understand workflow, office tech, workspace requirements and security concerns for the departments they handle. Tech-savvy team members will be crucial to disassembling and safeguarding computer equipment and other electronics during the move.
3. Plan and Enforce Your Deadlines
Depending on where you're moving or the circumstances of the move, you might need extra time for preparing the new office space. Make sure that your moving date is sufficiently far away and that your current lease offers enough time to get prepared. With these considerations in mind, select a moving date with plenty of wiggle-room in case a surprise circumstance delays the process.
Finally, pinpoint deadlines for all the tasks required by the move and enforce the deadlines in weekly or biweekly meetings. One way to enforce deadlines involves posting a posting a public calendar visible in the office.
4. Create Your Moving Budget
A moving budge is essential to keeping track of costs. This moving budget template covers the most essential costs relating to an office move. A cheap, do-it-yourself move could work for smaller offices, but you might want to spend a little more on the following (especially if you're a larger company)
Moving insurance: Moving insurance will cover the cost of lost or damaged items.

A full-service mover: A full-service moving company that specializes in office relocations will manage the packing and moving of furniture and equipment. A professional mover like this will save time, prevent injuries to employees and protect your furniture and equipment from damage.
5. Contact Your Service Providers
You'll need to notify all your service providers about the move. Make sure you don't forget the following providers:
Package delivery services like UPS, FedEx and the U.S. Postal Service.

Subscription services like food and snack delivery, newspapers, magazines, paper and office supply deliveries and more.

Telephone and internet service providers — be sure that all the information services are working before the tech department arrives to put together the computer network and workstations in the new office.

Utilities — contact your utility providers and make sure you have a couple of days of overlap between the utility cutoff dates and the moving date.

Marketing and printing companies — you'll need to order new stationery, business cards and promotional materials that feature the new address and location.
6. Could Your Office Use a Security Update?
There's no better time than an office move to consider a security or technology update. When you're disconnecting and disassembling every aspect of the business, you could notice a few things that need improving.
For example, your office security system could benefit from an Openpath access control system. Openpath provides cutting-edge access control to automate your new office's security infrastructure. Utilizing the latest encryption technology, Openpath lets your team members enter the office hands-free simply by having a configured smartphone in their pocket. Other features include access by wearing an Apple Watch, using an app or using a traditional keycard.
Conclusion
Once you've solidified your office relocation checklist you'll feel calmer and more organized. Gradually, you'll check the boxes off the list and before you know it everyone will be situated in the new space.