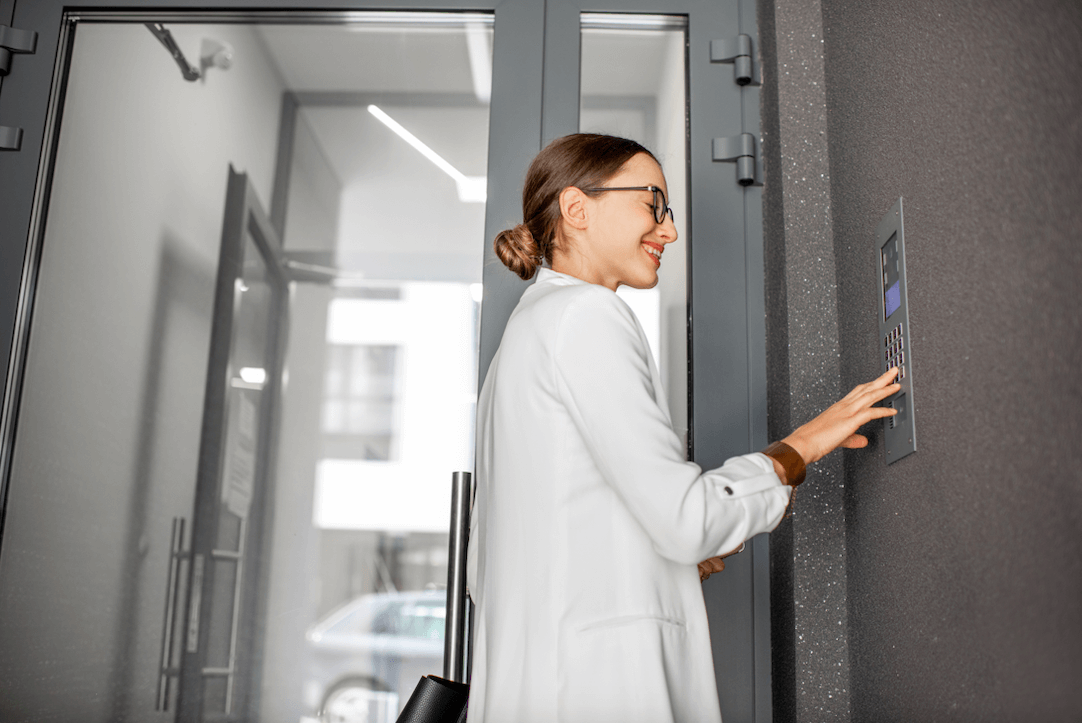 The longer you put off upgrading your legacy access control system, the more you're putting your office—and your entire business—at risk. Fortunately, if it's time to level up, you usually don't have to replace your entire setup.
One of the most important improvements you can make is upgrading to mobile credentials. Learn how to know when it's time to upgrade and the many benefits of cloud-based mobile access control.
When Is It Time to Upgrade Your Access Control System?
Here are five signs that your access control system is out of date, vulnerable to hacks or simply in desperate need of an update:


1. You're still using RFID keycards
If you believe that your legacy RFID (radio frequency identification) keycard system is safe and unhackable, you're probably mistaken. Many RFID "proximity card" systems are hackable by criminals who purchase a $10 copying device on eBay. By eavesdropping on your card readers, thieves can steal your access codes, copy them and enter your facility like they belong there. The older your keycard system, the more likely it's vulnerable to this kind of attack.


2. You have traditional locks and keys
Traditional keys are cumbersome, and your employees will waste time every day trying to find them after they get lost, and figuring out which key opens which door. Even worse, every time an employee moves on, you'll need to rekey all the locks if you want to ensure the building is safe.
According to one study, Americans spend 2.5 days a year looking for missing stuff and $2.7 billion collectively replacing it. Eliminating a few "losable" things—like keys and keycards—could save you a lot of time. A hands-free, mobile-based access control solution from Openpath means no more lost keys and keycards and no more retooling your locks.


3. You don't have smartphone-based access
Adding the convenience of mobile access to your existing setup is easy and affordable with Openpath. Once you've installed our plug-and-play smart readers to your legacy access system, you can grant access to anyone who downloads the Openpath mobile app on their smartphone.


4. You're still using equipment from the 90s or 2000s
Keeping your building safe with decades-old access control technology is like trying to stop a modern-day cybercriminal with a 1999 Nokia. The Nokia 7110 was an impressive phone back in the day, but hackers and criminals are always inventing new ways to overcome existing security measures. If your system is only a few years old, you might want to check with the Openpath team to make sure you're not exposed to attack.


5. You don't have cloud-based access control
Cloud-based access control systems keep the software that runs your access control solution safe by putting it on a heavily-encrypted remote server that you connect to via the Internet. In addition to cutting-edge, end-to-end encryption, cloud-based access control systems offer considerable cost savings on a variety of fronts. Consider these benefits.
The Key Benefits of Cloud-Based Access Control
When combined with mobile access solutions, cloud-based access control offers some impressive benefits in terms of cost-savings, convenience and increased security through advanced encryption technology. Let's take a look:
No need for an on-site server room: You won't have to install, purchase or maintain on-site servers or workstations. That means you won't have to pay for a dedicated technician to keep your access control solution running, and you won't have to pay the electricity costs associated with an access control server.


Manage it from anywhere: Because it's in the cloud and you connect to it through the Internet, you can manage your access control system from anywhere.


Better security: Cloud-based systems harness the power of end-to-end encryption, two-factor authentication and mobile credentials. These technologies offers the highest level of protection from cybercriminals, hackers and other types of intruders.


Stay safe with immediate security patches: Did you know that Equifax could have avoided the security breach that affected 143 million people if it had installed a security patch that was available two months before the hack? With cloud-based access control, you'll benefit from up-to-the-minute security patches—as soon as they're available. This prevents you from inadvertently leaving your access control system vulnerable due to outdated software.


Integrate with third-party apps: Openpath's cloud-based access control systems permit easy integration with third-party applications like G Suite, Slack and more.


Make expansion easy: Whether you want to expand access to a team of new employees or a group of temporary visitors, cloud-based access—especially when combined with mobile access—lets you do it without complication. Incorporating new office suites to your access control system is also a snap.
Upgrading Your Access Control is Simple with Openpath!
You don't have to completely rehaul your legacy access control system to get the benefits of mobile credentials. Openpath's patented mobile and cloud-based access control solutions allow you to upgrade your existing legacy system painlessly and affordably. Our plug-and-play installs repurpose the best of your original system.
Here's a step-by-step example of how to add Openpath to a legacy Wiegand access system already in place:
First, an integrator will replace your legacy Wiegand readers with Openpath Smart Readers.


Next, they'll install Openpath Smart Hub ACUs between the Smart Readers and the legacy panel, with the ACU Wiegand ports wired as outputs to the legacy panel.


Finally, Openpath will train you and your staff how to manage and operate your new setup in the safest and most efficient way possible.
If you're ready to bring your existing access control system up to modern security standards, contact Openpath now.
Fascinated by emerging technologies and the laws and market trends that follow them, Jeremy Hillpot's background in consumer fraud litigation and marketing provides a unique perspective on a vast array of topics including smart technology, building security, investments, startups, cryptocurrencies and the law. Contact Jeremy at www.legalwritingfinra.com or jhillpot@legalwritingFINRA.com.