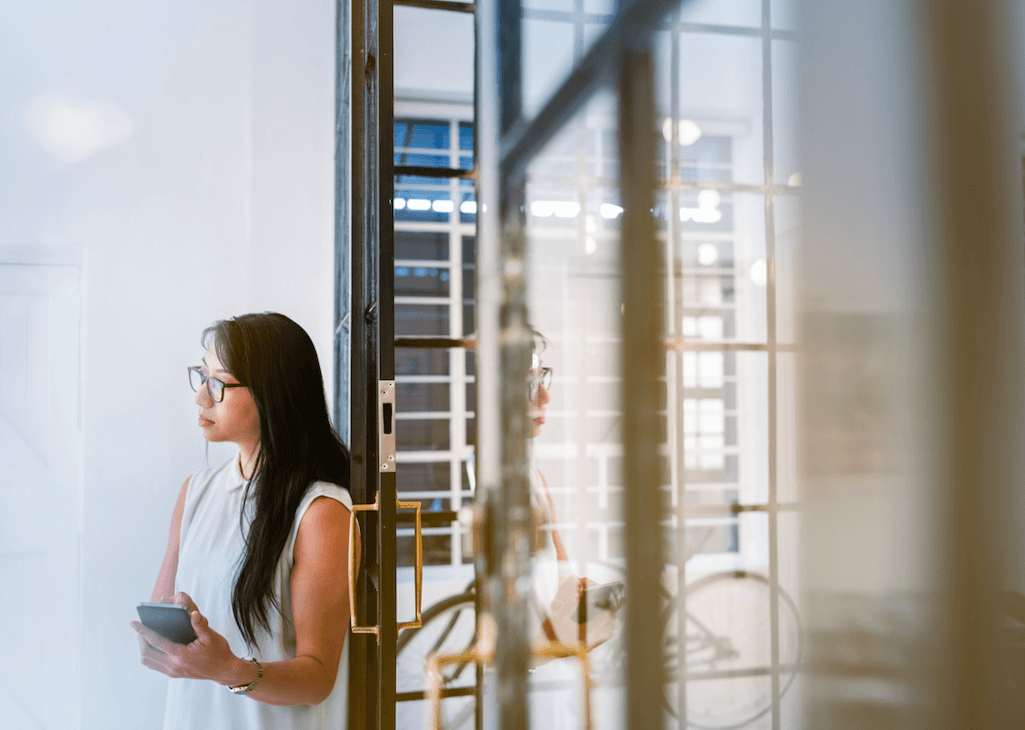 There's a difference between simply working in a digital environment vs. embracing intelligent workplaces. Companies are taking note of the growing importance of incorporating the tools and technologies their employees are already using in their personal lives. For example, employees want to be in a work environment with a keyless entry system that mirrors systems and technologies they're already using for their cars. Mobile credentials can satisfy this preference while establishing a more connected workplace.
Giving employees the ability to unlock office doors, parking garages, or elevators with their smartphones is just the beginning of leveraging mobile credentials toward developing a more connected workplace. Moving away from a foundational workplace where everyone is stuck at their desks to one where everyone can work from the cloud in a mobile-friendly atmosphere is an excellent start. Let's look at how to accomplish these leveraging goals.
What Are the Benefits of a Connected Workplace?
Communications: Collaborative communications consisting of rich, consistent experiences with seamless mobile capabilities.


Convenience: Applications allowing the ability to transition seamlessly from meetings to voice, video and other modes.


Single Platform: Utilization of platforms that are cloud-based, intelligent and open.

Dedicate an App
Your employees love their smartphones and apps and this next generation of workers doesn't know a world without their smartphone. Imagine if your company used an app that identified each staff member's credentials. Each time they entered the building, meeting space or authorized zone, they could use the app, or simply wave their hand in front of a reader without taking their phone out of their pocket to enter. They could unlock the door with their phone using this keyless entry system.
Because they're already using their smartphones throughout the building to answer emails, work in the cloud and receive text messages, their mobile credentials are available immediately as they move from area to area. With a technology such as Openpath's, he dedicated app can function with a simple tap or the app can even be closed and the phone locked and it still works; not only does this create a convenient way for team members to enter and exit, it also prevents them from going into unauthorized areas of the building.
Shared Connections
Establishing shared connections throughout the workplace goes beyond having a keyless entry system. Team members who can easily collaborate can experience a higher level of productivity. If they have shared connections on their smartphones, it's easier for you to develop a working environment that supports team-building and social collaboration in a natural manner. It's a win-win situation when staff members can connect seamlessly and get work done innovatively.


Work With Teams From Afar
Do you have teams who are working in other locations? Leveraging this technology makes it even more possible to embrace a connected workplace. Your team can easily collaborate with the software you're using and, in doing so, have immediate contact no matter how far away they are from your office. This technology helps boost human interactions; as a result, the quality of communication and work increases. You'll find this beneficial especially when you're using high-quality video conferencing.
Developing a Safer Work Environment
Whether you're working a remote team or one that's in the same building, leveraging mobile credentials is critical for developing a safer work environment. Not only does this pertain to the use of a keyless entry system to protect physical assets but also to minimizing cybersecurity threats. With a properly setup access control system that avoids using unsecured wi-fi connections and is encrypted from end-to-end, it's possible to ensure data protection is in place.
No Time Wasted
Because users only need a single credential, it saves them a considerable amount of time. The main reason is that there's no longer the need for searching for badges, fobs or keys, especially if you're accessing multiple doors. Integration using apps like Slack also allows users to type in "open the front door" for allowing quick access.
Site admins experience significant time saving, as well, because they don't have to manually assign, revoke or track badges. Each of these tasks is possible with the click of a button from anywhere thanks to cloud-based software. What's more is it's also possible to manage visitors more efficiently and quicker because their passes can be texted to them without the need for them downloading an app beforehand.
Final Thoughts
Team members want to utilize technologies they're already using in their everyday lives, and that includes smartphone apps. Therefore, leveraging mobile credentials with a keyless entry system that allows employees to unlock doors with their smartphones enables you to create a more connected workplace.
When you use an app that works with mobile credentials, it helps you establish an environment where collaboration occurs more naturally. Therefore, it's possible for meetings to happen from afar with teams on location and video conferencing to be higher quality, among other benefits, all of which makes it possible for productivity to increase.
Jenn Greenleaf is a freelance writer from Boothbay, Maine. She's been writing for the web since 1999 specializing in SEO, and various business-writing solutions.