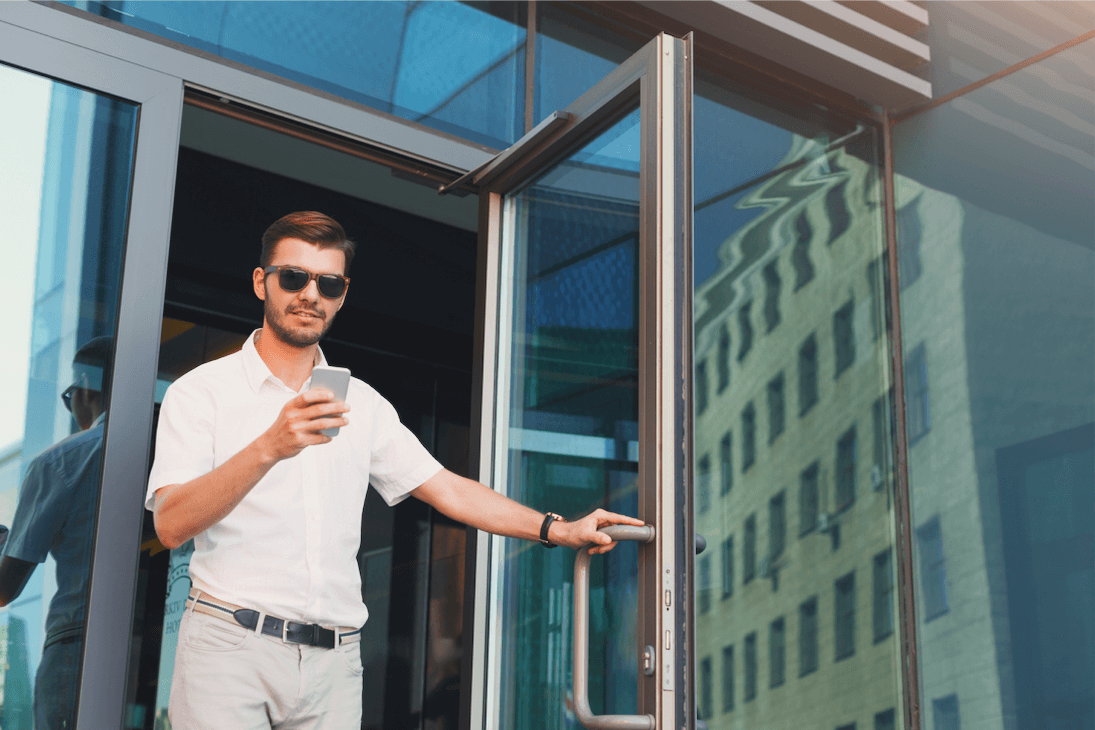 When smartphones first appeared, did any of us (aside from Steve Jobs) imagine how useful they'd become for business? Most of us were so amazed by mobile voice and email connectivity that we couldn't imagine anything else. But these days, smartphones can replace countless business tools—like landline telephones, scanners, fax machines and voicemail systems, to name a few.
Now, with smartphone access control, we're eliminating the need for physical keys and electronic keycards. Let's look at four ways businesses can benefit when they ditch their keycards for mobile access control:
1) Access Management Made Easy
Most businesses use electronic keycard systems to provide easy access to employees. Keycards are better than physical keys because, if someone loses a card, resigns or gets terminated it's easy to deactivate one specific card at a time. However, both physical keys and keycard access control systems are time-consuming from a management perspective. They require the following tasks from your management staff:
Registering and deactivating keycards (or cutting new physical keys and replacing the locks)


Meeting with people to physically give them their keys


Waiting while the keys are being made/registered


Dealing continuously with lost, stolen or forgotten keys
It's no secret that managers are stressed out enough. A smartphone-based, keyless access control system can eliminate a few of the stresses and hassles of the job by providing seamless and immediate access to anyone in an instant. Just send an email with an app download link and the phone becomes the keycard. It's as easy as that!
2) One Less Thing to Lose
Certain employees will lose their keys and keycards on a regular basis. Humans are forgetful and there are many reasons why people are prone to losing wallets and keys. If you're an office manager, however, replacing keys and keycards takes a lot of time—not to mention the hassle of employees getting stuck outside the office because they forgot their keycards at home.
However, how often do employees lose their smartphones? Not as often as a key (because these days, we're virtually attached to the devices). Even in the case of a misplaced or stolen phone, the employee can redownload the app on the replacement phone in a snap. Plus, nobody needs to meet with the employee. Just send an email with the download link and you're done.
3) The Potential for Powerful Security Tech Add-Ons
A dishonest employee could share a physical key or keycard with anyone, but the powerful security tech in smartphones can prevent this sharing. For example, Openpath enables the use of multi-factor authentication, meaning you can require biometric input and authentication codes, ensuring an even higher level of security.
4) Hands-free Access
Have you ever been stuck at the front door of the office with a bag of bagels in one hand and five lattes in the other? It's always a scramble for your keycard to get inside. Even most smartphone access control systems require you to pull out your phone, open the app, present the phone to the reader – they can be just as inconvenient as keycards. But with Openpath, you can take advantage of our hands-free feature. Once you're close enough to the entry, the Smart Reader detects the registered smartphone in your pocket and unlocks the door instantly.
Say Goodbye to Keycards with Openpath
At Openpath, we offer cutting-edge, smartphone access control systems for your business. In every product we develop, we're proud to follow these four technology pillars:
Scalability: It's easy to expand our access control system to include more doors at more of your sites.
Reliability: Openpath is always up and always running. Plus, our team is always available to assist with any questions.
Security: We employ the most advanced security technology available, both in terms of physical locks and software.
Interoperability: Our system is cross-compatible with your on-premise systems. Openpath stays flexible so it can meet all your access needs no matter what your current system looks like.
If you'd like a keyless access system that offers scalability, reliability, security and interoperability, contact Openpath to see how our smartphone access system can seamlessly integrate with your existing setup.
Fascinated by emerging technologies like blockchain, and the laws and market trends that follow them, Jeremy Hillpot's background in consumer fraud litigation provides a unique perspective on a vast array of topics including smart technology, investments, startups, cryptocurrencies and the law. Contact Jeremy at legalwritingFINRA.com or jhillpot@legalwritingFINRA.com.