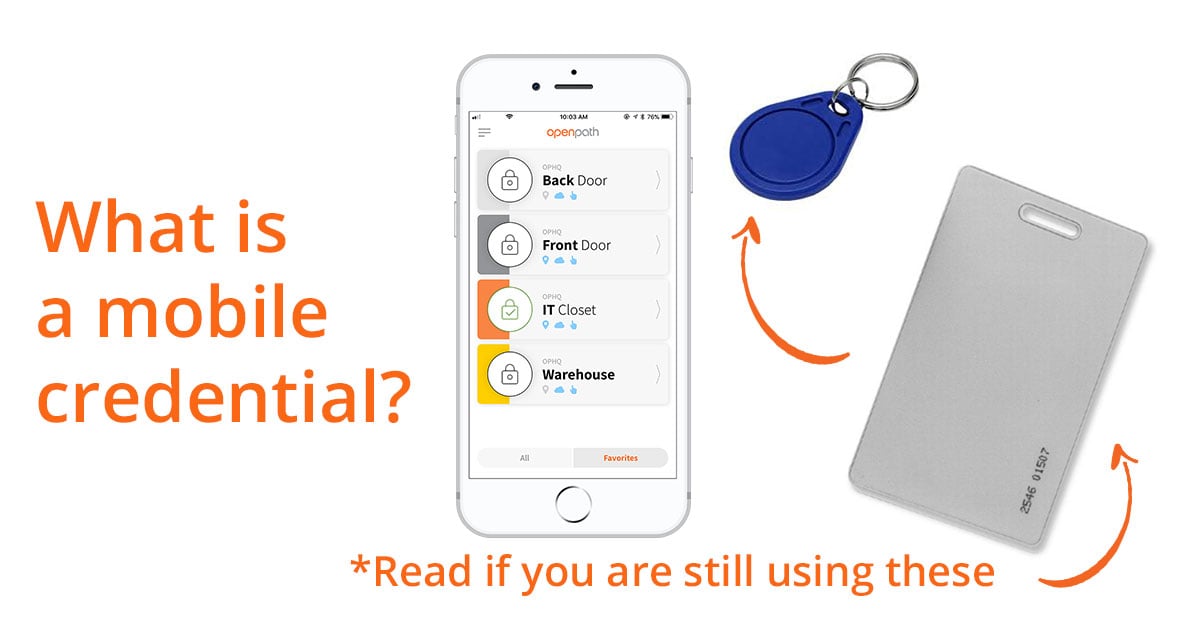 In the world of access control, a mobile credential allows you to authenticate your smartphone and use it as your key to access the office. This is similar to how ApplePay or AndroidPay allows your phone to act as payment device.
With everything trending towards mobile, it's no surprise that a recent study by Gartner suggests that 20% of organizations will use smartphones in place of traditional physical access cards over the course of the next year.
Here are a few of the reasons why so many are making the move away from traditional keycards, fobs, and badges in exchange for mobile credentials.
Mobile credentials are…
More Secure
Mobile phones are one of the most secure devices and cannot be cloned like a keycard
You can enable 2FA (Two Factor Authentication) so that a user needs biometrics to unlock their phone via thumbprint or FaceID in order to use their mobile credential
All phone communication with Openpath's reader is fully encrypted, end-to-end, without any dependence on the security of the underlying wireless protocols.
All communication with the cloud is encrypted end-to-end with strong public key cryptography and mutual authentication.
Employees are less likely to lose their phone vs a key card and know immediately, when that happens
In the event that a phone is lost, the credential is immediately revoked and automatically reinstated when the user logs in from his/her new phone.
Employees are less likely to loan out their phone for someone to borrow than handing over a badge or keycard
More Convenient
Employees no longer have to carry their keycard with them, their smartphone becomes their keycard. One less thing to worry about.
Issuing and revoking credentials is much easier. Openpath has integrations with G-Suite, Active Directory and OKTA, so you no longer have to manage users separately, it stays up to date.
Openpath's unique touch feature allows users with a mobile credential to open a door by simply touching the reader without needing to take out their phone.
Guest pass feature allows users to issue temporary mobile credentials to visitors or contractors without needing to download the app.
Remote unlock lets you open the door for a visitor even if you are not at the office.
If you have multiple offices, you no longer need to carry different cards, all entries are stored in your app.
Cost Effective
They reduce the need for purchasing, issuing and replacing keycards, fobs and badges
Mobile credentials are managed in the cloud, so you no longer need to have a dedicated physical server on site to manage
Administrators' time is freed up to focus on other tasks and projects
Openpath's access control solution also supports those who wish to use key cards or key fobs, but we've seen that Openpath users who start off using a physical credential like a keycard or fob eventually make the move over to a mobile credential. Openpath has an amazing 94% mobile adoption rate among our users. Its never been easier or safer to access your office.
Thinking about making the move to mobile credentials for your office? Click here to learn more or contact our sales team at sales@openpath.com to find out how Openpath's mobile cloud-based access control system can work for you.