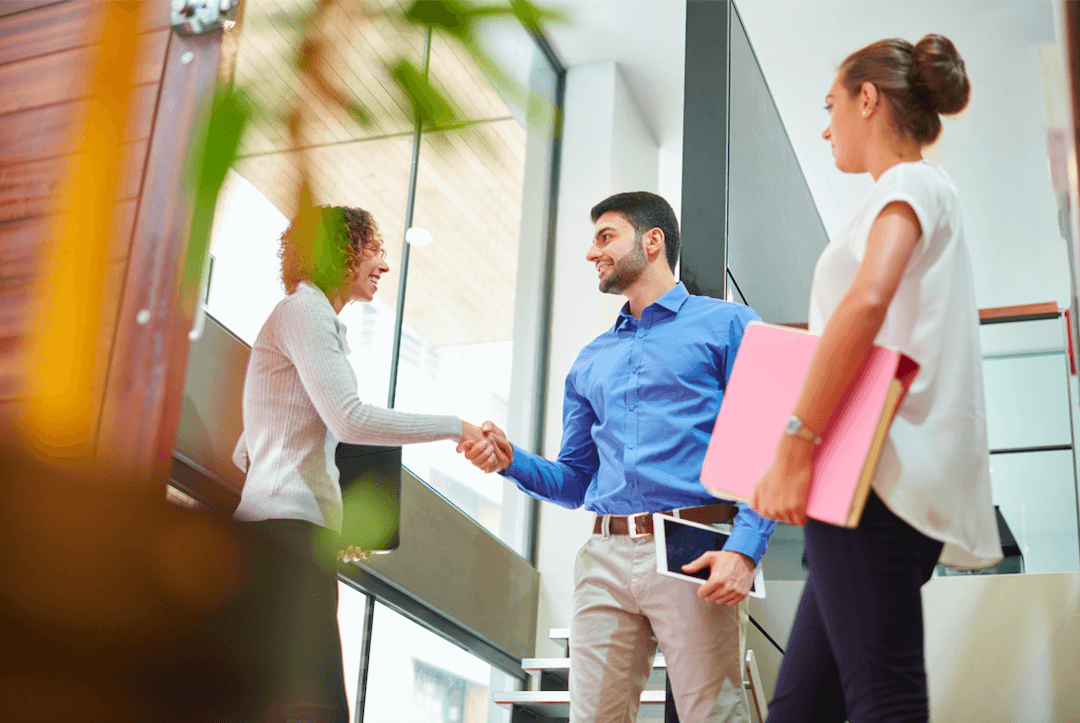 Receptionists and office managers are normally the people who grant lobby or office access to visitors. Among other responsibilities, they buzz people in,create guest passes, and are often responsible for collecting temporary passes when visitors leave. All of that can be extremely time consuming and inefficient.
Another issue is that there may not be a receptionist available on every floor. Additionally, many companies simply don't employ traditional receptionists at all.

This usually means that other employees, perhaps those sitting closest to the door, have to let visitors in the office—producing a huge distraction during the work day.
Wouldn't it be great if there was a way to grant access to visitors seamlessly, reducing employee distractions and delighting your guests in the process?
The first step in a frictionless guest pass system is having a flexible access control and keyless entry system that already includes several credential options for entry, based on preference. Employees can be given the choice of which method they'd like to use to enter their office everyday — smartphone app, card, badge, key fob or a combination of these — which can reduce the hassle of having to interrupt the workday of the receptionist, office manager or operations manager due to a lost card or badgeleft at home.
This access control system should incorporate features for guests entering your office as well. Guests might include employees visiting from other locations, clients, vendors, partners, investors and service providers or office maintenance personnel. Treating such guests to a seamless office experience carries multiple benefits.
First, your receptionist — if you have one — in addition to the employees sitting by the door will thank you, as this is yet one less distraction or disruption during his or her day.
Additionally, clients and service providers who visit regularly will be happier, as you have made their jobs more efficient and reduced the hassle to just be able to enter the building.
Openpath has a guest pass feature in which authorized users can grant limited entry privileges to guests or service providers as needed via the cloud-based software, allowing this to be done from anywhere. Guest pass links are then sent to the visitor via text message so the visitor doesn't need to download the app — they just click on a web link to unlock the door.
While having a guest pass system or process in place will certainly lead to fewer interruptions for your employees, there will also be fewer interruptions for your guests. Not to mention, a boost in your security with the ability to track temporary guests with real-time reporting. Productivity — on both sides — will spike when they realize that attempts to enter your office is one less distraction in their busy work day.
Jake Wengroff writes about enterprise software and emerging technologies. A former technology reporter for CBS Radio, Jake covers such topics as mobility, security and IoT.